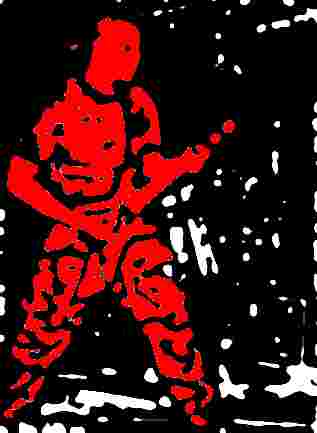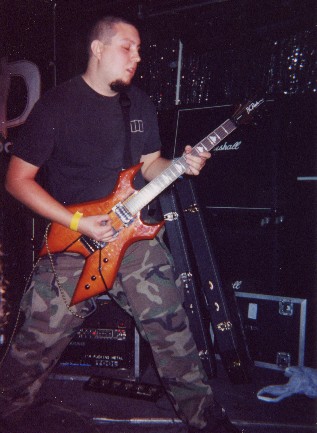 Ryan Butler (guitar)
Ryan started his music life pretty young and played
just about every instrument in the orchestra. Later, he
picked up bass guitar and played with quite a few
people. His first feat was the widely popular (haha)
punk band, Richard Cranium, started in 1991. In 1993
he joined a heavily Rorschach-influenced band,
Withdrawn, who then changed their sound to a more emo-
violence style. Withdrawn also changed their name to
Lyburnum before recording a demo. Lyburnum also
recorded one song for the Amnesia compilation on
Ebullition Records. Lyburnum did a short west- coast
tour, playing several times with Portraits of Past. At
the ending days of Lyburnum in 1994, Ryan and some
friends started the doommetal/hardcore band,
Wellington. Widely unpopular in Arizona until their
last show, Wellington gained fans everywhere else. In
1995, Wellington continued a successful west-coast tour
despite Suppression unable to tour with them (due to an
exploding van). Wellington also did a west-coast tour
with Unruh in 1996.

Wellington discography:
7" on Fetus Records 1994
song on Amnesia compilation 1995 Ebullition
Fall Silent/Wellington split 7" 1995 on Fetus
Thank You Jesus LP 1996 on Fetus
Noothgrush/Wellington split 7" 1997 on Deep Six
split with Dystopia (that's still sitting in someone's room to be released)
discography CD on Deep Six 2000

Ryan also joined the hardcore/crust/thrash band Uruk-
Hai, which Bill also was in. They did a 10 song EP on
Fetus, played one show, and spawned Unruh. Ryan was
also in Unruh for the five year duration.

Unruh discography:
Demo 1995
Friendly Fire-7" 1996 on King of the Monsters
Enewetak/Unruh split EP 1996 on Feast and Famine
Misery Strengthened Faith LP(CD soon) 1997 on KOTM
song on Cry Now, Cry Later Vol. ?? compilation CD 1997
(featuring the likes of Fear Factory, Eyehategod, Dystopia)
Setting Fire To Sinking Ships LP/CD 1999 on Pessimiser
Creation Is Crucifixion/Unruh split 7" 1999 on Willowtip
song on Seven Deadly Sins box set compilation 2000 on Hater of God
(Soon a discography CD with demo, rarities, and B sides)

Unruh also did a west-coast tour with Wellington in
1996, a full US tour with Fall Silent in 1997, a west-
coast tour with Bullyrag AKA Fucking Thunder in 1998,
and a full European tour in 1999. Ryan currently
installs blinds with the madman known as Jason Stinson.